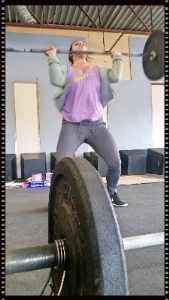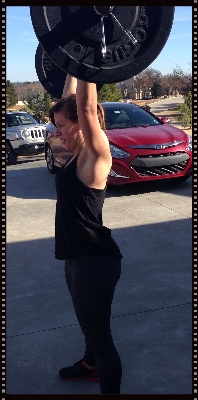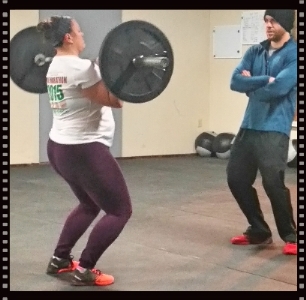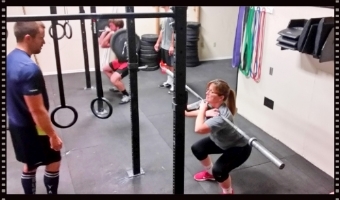 Lindsay
All my life I have dreamed of being 'skinny'. I finally got a gym membership, and on my first day I was invited to come to CrossFit (by Lucas of course). A little intimidated, and only mentally prepared for a 45 min treadmill WALK, I decided to try it out. I came on the right day because the WOD was equally challenging yet something I could accomplish on my first day. I was already addicted. However, on my second day of CrossFit, I thought I was going to die. The WOD seemed impossible, but I realized I had a choice to give up or keep going. I have now been training with Lucas for 5 months and my life has changed dramatically. I used to focus on my social life, drinking, and occasionally smoking, but month after month, I started dropping those unhealthy habits because I was more focused on feeling good for our 10am workouts or evening CrossFit classes. It was crazy that I actually enjoyed staying in on a Friday night because I knew I would feel great for my workout the next day. I feel stronger, healthier, and happier, and honestly, I am not worried about weight loss anymore, it can be as slow of a process as it needs to be, I am just happy I am doing something healthy with my life now.

Kayla
CrossFit was something I was kind of thrown into. I met Lucas, and the next thing you know, he was having me come and attend his fitness classes. I don't think I had much time to think about it or be intimidated by it, but I do remember being a little worried. I had been familiar with weight training but nothing quite like this. I was relieved to know that everything was tailored to my ability. Lucas would make sure he spent a little bit of time with each person in class to make sure they had proper form and the weight they were using or the activity they were doing was good for the level they were at currently. I remember the timer starting and I wasn't so nervous. Everything I was about to do was something we all practiced together and we all got personal feedback and motivation from the beginning to the end of the workout. It was fun and it was challenging. People were very encouraging and it was a great atmosphere to be a part of. I do CrossFit because it is something different every day and there will always be a challenge to overcome. You can start from any fitness background and excel in giant leaps within months. CrossFit gives you confidence and self-esteem; I quit worrying about how much weight I was going to lose and started to worry about how much weight I wanted to lift. I can't wait to meet my new fitness family, here at Jurassic CrossFit!

Lisa
I ran 8 half marathons and 1 full marathon, training primarily by running hundreds of miles. Strength and flexibility training were hit or miss and never part of my standard routine. No matter how much I ran, by mile 9 or 10, my legs were always stiff and tight and I'd be very sore for a few days following the race. Over the course of a year, my times were not improving, and my performance was actually decreasing. Then, I injured my back and was unable to run for about 5 months and during that time I gained a lot of weight. After being cleared for exercise by the doctor, I didn't want to miss my favorite race of the year, but it was only about a month and a half away. I started CrossFit style training with Lucas and prepared for a half marathon in just over a month, doing mostly CrossFit and running only once a week. I was able to finish the race! It was not my fastest time, but it matched my times from earlier in the year, prior to my back injury, and my body felt great the entire race. My legs didn't start hurting around the 9th or 10th mile and my recovery time was practically nothing. It's insane that I prepared in less than 40 days after not exercising for months. Walking into the first class was intimidating, but one of the best decisions I've ever made. I'd recommend CrossFit to anyone- men, women, moms, dads, runners, cyclists, anyone- who wants to look better, feel better, or perform better. These workouts have changed my life and taught me that I can do much more than I ever thought I could do. With the strength and endurance I am gaining in CrossFit, I am excited to keep going and see where it takes my running. I'm definitely predicting some PRs in my future!

Maridee
I have been 'working out' for many years, and the last two years have gone to shape with my son and husband. We spent 1 1/2 to 2 hrs there and barely talk to each other. They do weights and I do the machines, treadmill, stairclimber and am bored stiff! Since starting Crossfit with Lucas, I get a super workout in half the time and actually workout WITH my family! It's awesome to interact with others and cheer each other on, all while working harder than any other method I have tried. I am a 55 yr old woman with 3 herniated discs and rotator cuff issues, Lucas is always able to scale the workouts even to my level and help me get a fantastic workout. Since starting with Lucas I feel healthier, stronger and capable of keeping up with the 20 something's I work with. Highly recommend Lucas and Crossfit to anyone no matter your age!